Houston Home Lifestyle Newborn Sessions
What is a lifestyle newborn session?
These sessions are more about capturing the interaction between the family members and the newborn.  I will work on capturing special moments with each family member (including your fur-babies, if you wish) and the newborn as well as the family as a whole.  If older siblings are going to be photographed with newborn, I will work on those particular shots first as well as family shots with the older sibling as well.  I usually do a few of the sibling by him/herself as well.  Then the sibling is free to go with a family member or friend while we work on photos of mom/dad and newborn and newborn individuals shots.  At the end of the session, I will leave time for a few individual newborn shots, when the baby is sleepy.   These will be lightly posed or swaddled shots.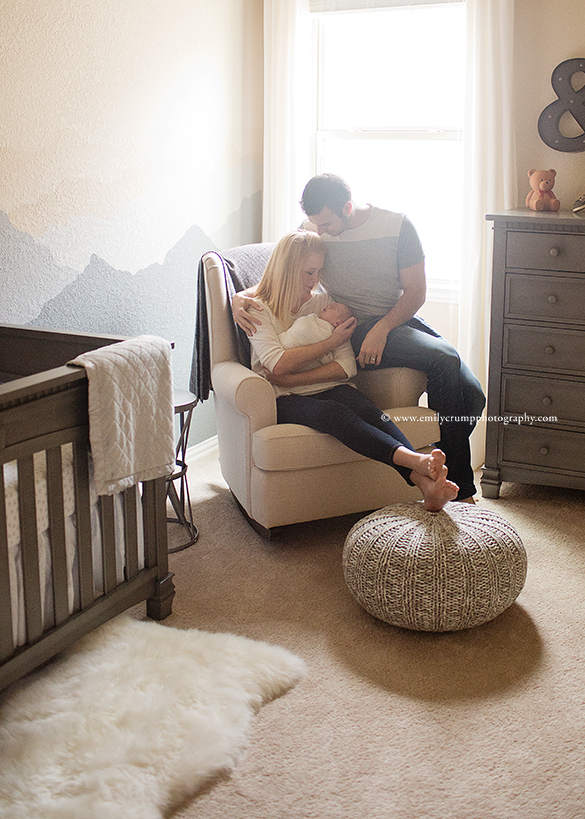 Where will we shoot?
An in-home lifestyle newborn session takes place in the comfort of your own home…I come to you!  We will be using the nursery, master bedroom and/or living areas.  When I arrive I will be opening all the curtains and blinds in the room that we are photographing in.  The more gorgeous natural light the better!  Sometimes we can also shoot in backyards and outdoor areas (weather permitting).  Do not worry about the house being a mess.  I have had two children myself and I completely understand.  There is grace and understanding in that.  I may just move some things out of our photographing area.  Usually I try and find a blank, neutral wall to do a few classic portraits against.
What should we wear?
I recommend all family members wearing neutral colors.  No busy patterns or prints.  Cream, ivory, white, navy blue, and tan are all colors that photograph well with outside distracting.  Also, these colors work well in black/white photos.  And if you have browsed my website, you know I LOVE family newborn b/w photos!  The same rules apply to siblings outfits.  Please no shirts with text on the front either.
What should the baby wear?
A simple onesie or a fitted little dress would work perfectly.  Please do not dress baby in clothes that are way too big for them.  This seems to swallow them in the photos.  Or if you prefer to do a swaddle wrap that is also fine.  I have many colors of swaddle wraps that I can bring to the session, just let me know.
How long will the session last?
Usually around 2-2.5 hours.  This will allow time for cuddling and feeding if necessary.
How can I prepare for the session?
No need to spend a lot of time preparing for the session.  Choose anything / clothing that you would like baby photographed with and lay it out for us to discuss upon my arrival.  I have photographed newborns with beautiful family heirlooms such as quilts, clothing, bracelets, etc.  Or if you have a specific photo or vision that you would like to see during the session please email me to discuss so that we can be sure to leave time to make that happen for you.   As you know by now, newborn runs the show.  And it will be no different during our session.  I will take my cues from little newborn.  These sessions really are a fun experience for everyone!  Please try not to stress as you are getting ready for your session.  I'm happy to answer any questions that you have along the way.  We are in this together.
Houston Home Lifestyle Newborn Sessions
If you interested in booking a newborn session with Emily Crump Photography for 2018 now is the time to book even if you are just newly expecting. Session dates book up quickly! Please email me today at emily@emilycrumpphotography.com while session dates are still available. Houston Home Lifestyle Newborn Sessions
Be sure to follow us on our Facebook page and our Instagram.